For those of you who don't know this already our home was/is a "fixer-upper". We have lived here now for almost 6 years. Now, I know what you are thinking, "they should have everything done by now". Well, we don't:-). When you throw in adding two more to our family and soon three, family vacations--yes, we often choose to take these instead of spending the time/money on our home renovations, and everyday life, we still haven't completed many of our projects.
My
personal opinion is our home renovations will still be here, but the time spent with our children as a family on vacations and such cannot be gotten back. So, as we have added children or the need arises we have slowly been knocking things off of our list. Some of the rooms in our home looked as if they hadn't been touched in at least 20 years, and this is no exaggeration! We still have two of these rooms left. One bedroom and one bathroom. I had really hoped to complete the bathroom before Jesse arrived and not the bedroom. We'd decided Jack and Joe would share a room and Jesse would get Joe's old room, making it possible to finally fix up this disgusting bathroom instead of a bedroom this time. However, Joe had other plans in mind and made these more and more evident over the last few months. Jamie and I slowly realized he was not going to happily share a room and to make things much easier on us we gave up our (OK, my) dream of redoing the bathroom:-(. So, Princess Hanna will get the pleasure of getting to move into a brand new bedroom this summer and Jesse will get her old room. She is VERY excited about decorating her "new" room and moving into it.

When Jamie redid Jack's bedroom I didn't even think to take before and after pictures. I won't make this mistake twice. Here are some pictures of Hanna's "new" room right now. Beware--they are scary!! This room was used as a storage room up until now. Jamie has almost gotten it cleared out and he will start gutting it this weekend. I wanted to get some pictures before he starts tearing stuff out so you can really appreciate it's true beauty:-). Jack's room was just as disgusting as this one before he redid it. Since I don't have any before's of Jack's room I am still posting some after's just so you believe that we really don't live in "scary" home:-). Enjoy, and look for more as Jamie (and I give ALL the credit to him) progresses. This will be a slow project. This room has to be completely gutted, reinsulated and so forth!! This is interesting--the walls in this room are not one piece paneling, they are individual boards that have to be taken off one by one. We will be replacing the walls with sheetrock.


Hanna's "new" room "before" shots: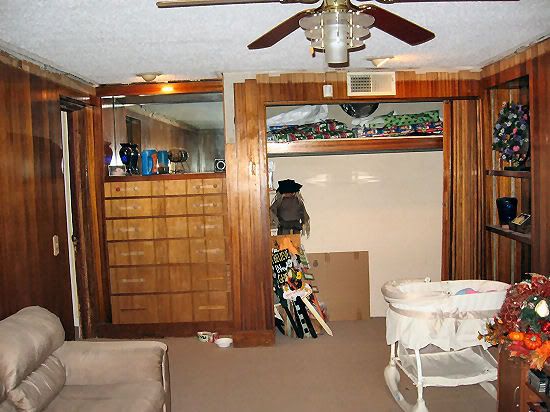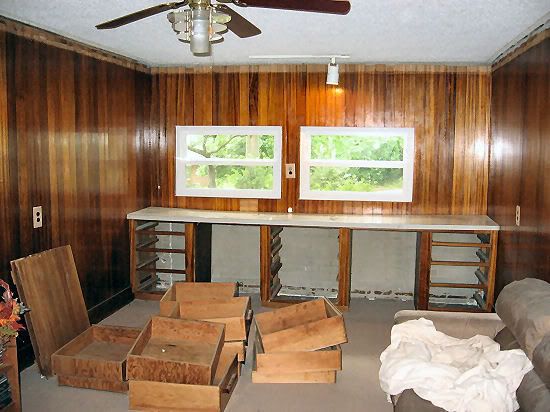 Jack's room "after" shots: