We went to Dan Nicholas Park this past Saturday. We wanted to go on a day trip and do something fun with the kids and decided on Dan Nicholas because we had so much fun here a couple of months ago. We had just as much fun this time! This park is filled with such a variety of family activities! The only thing we didn't do this time was the paddle boats. Jack wasn't old enough to ride on them so we opted not to do them at all. I took lots of pictures while we were there. Here are some of my favorites from the day.

This was Jack's first time on a merry-go-round and he LOVED it. He laughed, bounced and smiled the entire time. It was so much fun watching his excitement. He is at such a fun age--discovering so many new things!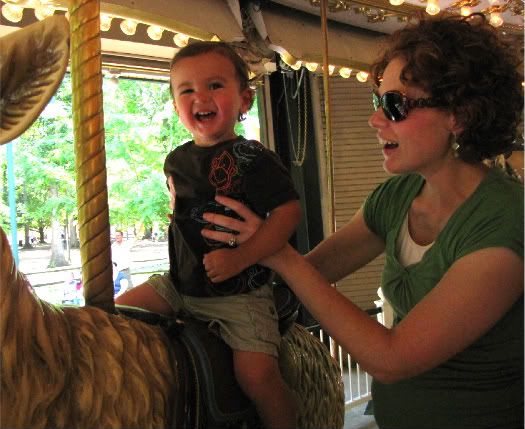 Here is a picture of me with all the kids on the merry-go-round.


Hanna and Joe had fun with the chickens again.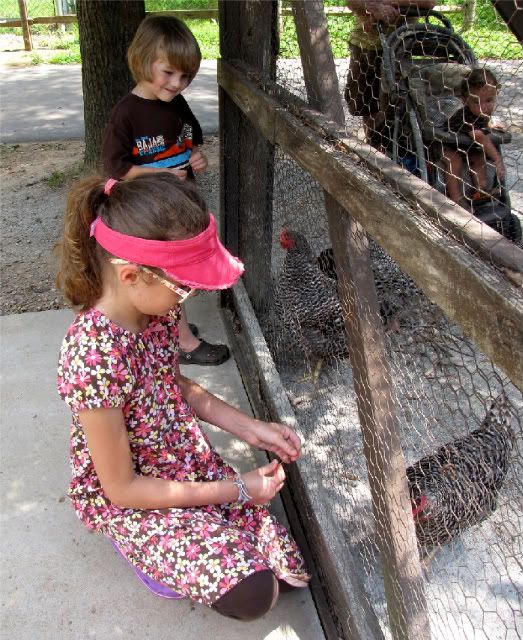 Here's a really funny one of the kids--check out the "expression of excitement" on Jack's face. As you can see, this was one of the highlights of the day for him:-)!


Of course, Jamie and the kids had the most fun "mining for rocks"! This was truly their highlight and they all had fun with this. Jack and I just watched and part of the time he had fun playing with a little pile of sand and gems we put on the bench in front of him. Jack has been making this hilarious face lately--I managed to capture it in one of the pictures I took--it is priceless!! He was really tired by the end of this as you can see by the look on his face:-). He was such a good sport the whole day. It was really, really hot! Despite the heat we had a great time. Everyone was happy and it was just a fun family day together. I got lots more pictures too, but you'll have to wait for those on my homeschool blog later this week:-). We finished our day off with a very yummy dinner at The Cheesecake Factory--my pic:-)! I can't wait for our next day trip--the Science Museum in Augusta. We hope to get a few more day trips and one long weekend trip in before Jesse is here and we have to slow down for just a bit. I love being able to do so many fun things with our family and am thankful for every memory we make together.