We went to my mom's today and the kids played outside in the sprinkler. They had lots of fun and just like last week at the park, I was roasting!! It was 94 degrees today and very humid:-)!! Gotta wonder what kids like about running in an ordinary garden sprinkler so much, but they do--mine at least.

Just like last week Joe spent the most time in the sprinkler. His favorite things to do in it were pick it up and shower Hanna and Jack with it:-) and bury his plastic dinosaur in the dirt pile and then go wash him off. He did this over and over again!!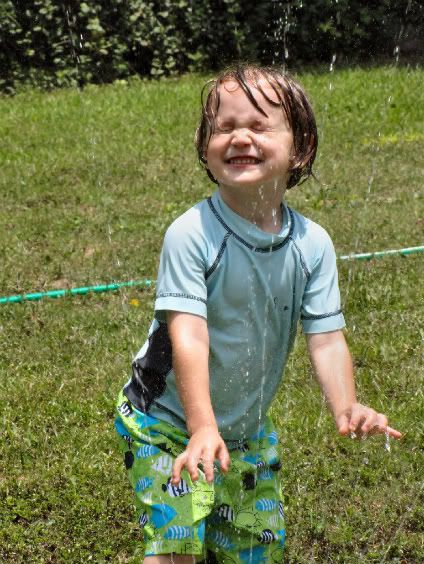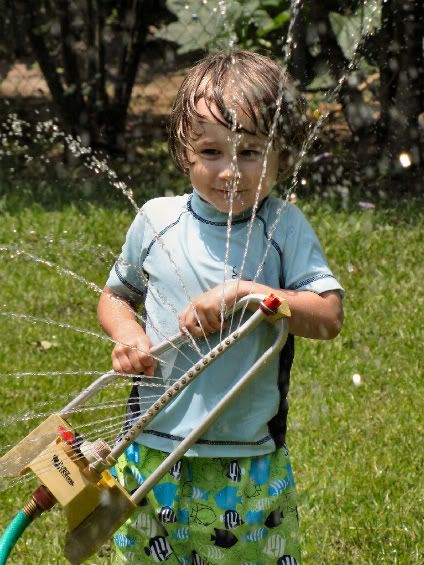 Jack did his usual--running from one thing to the other, keeping himself plenty busy.


Hanna did her usual--spent some time in the sprinkler and lots of time looking for lizards, butterflies and roly polies. This has been her thing since she was about 3, I can't believe she still enjoys this at almost 10, but am so glad she still has this childlike quality and hope it continues even if it changes and grows into a more in depth love of nature. This is one of her qualities I have always appreciated and been thankful for--her love of nature and animal life.


My dad built an enclosed area (like a sandbox) this past weekend and filled it with dirt, mostly for Joe (he loves to dig and hoe when we are there) and the kids got into that at the end of their outdoor playtime. OK, when you mix dirt and water from the sprinkler what do you get? MUD--and they got into plenty of it:-)!! Joe and Jack went from the sprinkler to the dirt box over and over again filling buckets, making mud "stuff" and washing plastic dinos. Hanna has really been into giving herself "pedicures" lately and she covered her feet in mud and reminded me about how "mud masks" are supposed to be good for your skin:-).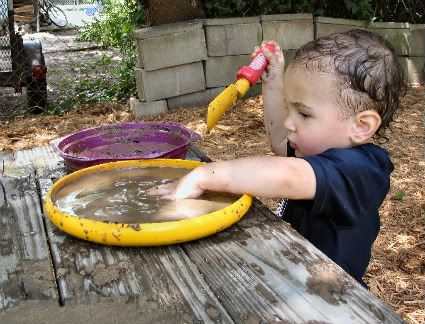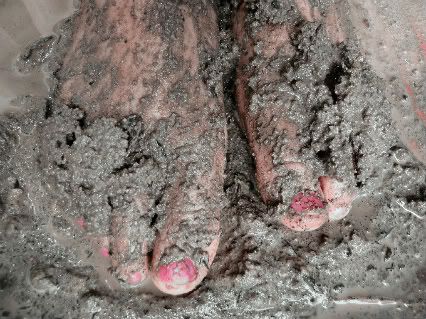 The kids had lots of fun playing outside today. I've got to get a wading pool so when we are outdoors playing I can at least get a little relief:-). Even though it was really hot, I enjoyed watching them play. I am so very thankful I get to stay home with my kids each day and make so many special memories with them. It is a blessing I thank Heavenly Father for each and every day.