I can't believe it--my sweet Jesse will be one month old tomorrow! Wow, his first month has flown by! It has been, and still is an emotional rollercoaster for me. However, I cannot tell you just how much our family has been blessed by bringing Jesse home, and having him become part of our family. It's amazing to me just how much each of the kids loves him and wants to help take care of him. I know that each month will fly by just as this first one has. I try to remind myself of this each day so that I don't miss these precious moments/days with not only Jesse, but with each of my kids.

We have gotten back into the groove of school at home the last two weeks. Things are going smoothly after making a few changes that have drastically helped with Hanna's and Jack's school time. I have discovered a way to keep Jack entertained, and even have a little "school" time of his own, while I do school with Joe and Hanna. I will share this in his Tot School post tomorrow.


Jesse has grown alot this past week! His cheeks and legs are really filling out. He is by far our most laid back baby. We needed this, and he is an answer to prayers. Here are a few of my favorite pictures from this past week of Jesse.


Brotherly Love: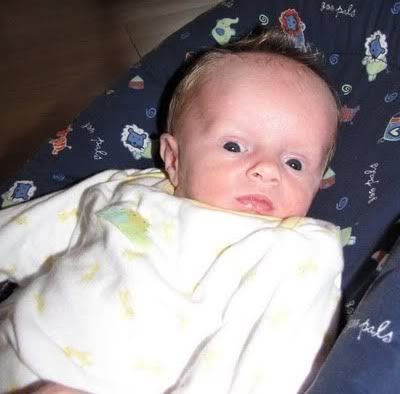 In his rocking chair:

My favorites this week with Jesse:

holding him as much as I can
watching him learn to focus on me, and seeing him "notice" me
watching all of his siblings love and bond with him
his first smile yesterday, yes, a real one!! With me!!
I love my Jesse. He is such a sweet baby. Such a reminder of what's most important to me and to the whole scheme of things. I love being a mom. It is the most challenging, yet the most rewarding experience of my whole life, and I couldn't have anyone better to share this journey with than my wonderful husband!