Jesse is three weeks old today! Even though this week has been a reality check for Jamie and myself as far as lack of sleep setting in, and our workload with four kids-two of which are babies--it has been a wonderful week. Everyone is doing so well and our blessings are never ending.

I can tell Jesse is growing. He is filling up more of the length of his swaddle blanket and bath cushion this week.


What do I love about Jesse this week:

Holding him on my shoulder. I love to have his face so close to mine and hear his sweet baby breaths.
Watching him sleep. I love newborn sleep expressions.
Baby breath, yes, that's right--it smells so sweet.
His hair, it is so fluffy and I can style it already:-).
I know all of these things will be gone so quickly. Before I know it Jesse will be sitting up, crawling and then walking. I want to enjoy each little phase with him. I truly enjoyed all of Jack's baby moments and want the same with Jesse. He is such a sweet baby and we all love him so very much.


Here are some pictures from this week. Jesse in his bouncy seat:

On his playmat: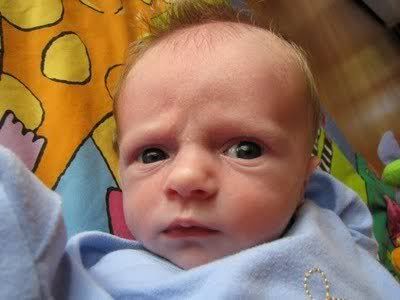 With his Pop Pop, I promise he likes him:-):