We put our Halloween display outside this weekend. We turn it into a Fall display after Halloween comes and goes and leave it out through Thanksgiving. I just love this time of year! I always take pictures of the kids in front of our display. I take one of them in normal clothes when we put it out, and then another right before we go Trick-or-Treating with them in their costumes. I've done this for five years now. I couldn't find all of the pictures from each year quickly, but here are a few that I did find.

Hanna was quick to notice, and comment that she is holding a different baby in each of these photos:-). Jamie and I didn't even pick up on this, it was too cute!


October 2005: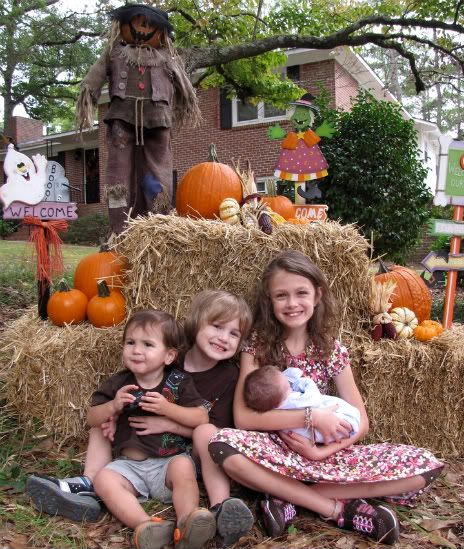 Here is one more picture of Jesse. I know this picture is in my header, but it is just so cute!! It was Jamie's idea to take the top off of the kids jack-o-lantern and make Jesse our little pumpkin:-).

We are having such fun these last couple weeks. We haven't even gone anywhere, but we have been doing lots of Fall activities at home and outside as a family, and it has been simple, family fun. I am so thankful for my family. They bring me true happiness daily!