I took the kids to our local Children's museum this past Friday for a "Field Trip". I'd been wanting to go all summer to see the Butterfly Exhibit they have through October. We finally made it and we were impressed with it too. I knew Hanna would be in butterfly heaven considering she is somewhat obsessed with butterflies in general:-). We stayed in the exhibit for about an hour just looking at all of them, and the pretty flowers they had around. They had butterfly guides available. I had Joe get one and play a game of "I Spy" with his. He loved this, and found lots of different types once I initiated the game.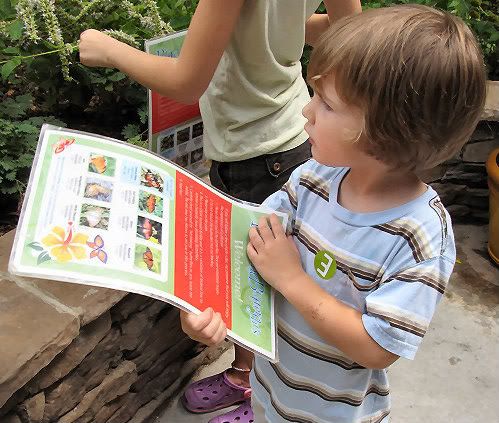 Hanna actually caught several butterflies on her hand. This was the highlight for her.
Jack wasn't allowed to get down and I couldn't bring the stroller in either (exhibit rules)--so I held him the whole hour--this was challenging, but it did end up working out ok, and I managed to get some good pictures even with one hand:-). Even having to be held, (which luckily he likes) he enjoyed looking at all the butterflies and seeing some up close on the plants and flowers.
After the exhibit I let the kids have fun in the museum. Their first stop was the life sized boy in the front. The inside of this boy is filled with slides, tunnels and passages that are play areas of the different parts of the human body--eyes, brain, stomach and so forth.
Hanna and Joe had fun with the large Operation game.
They also enjoyed "grocery shopping".
Joe and Jack enjoyed playing around on the farm getting eggs from the chickens and "riding" the tractor.
Hanna and Joe stopped for a camel ride in Timbuktu.
We lost Jack in Timbuktu and found him a few exhibits over on the human piano.
This was it for Mom. After frantically running through this part of the museum calling for Jack (and yes, I'm a mom who always wondered "How in the world does anyone lose a child?!") and then finding him so far away we called it a day and headed home. Despite this one upset we really did have a great time! We always enjoy this museum. There is so much to do, and the butterfly exhibit was beautiful!