First a very brief wrap-up of what Hanna learned this week, and then on to her finished pottery pieces I couldn't wait to pick up!!
This week Hanna worked on:
ELA/Math

-

Sandi McQueen's Language Lessons

25-28 and

Rod and Staff Math

lessons 33-36.

History

-

History Odyssey~Ancients Level Two

lesson 15; completed 4 more sections in

Ancient Egypt History Pocket

.

Science

-

Apologia Zoology 1~Flying Creatures

Lessons 8 & 9. She made a very cool baby pterosaur fossil. You can see a "how to" on this fun project *here*.


Wordly Wise

-Lesson 9

Field Trip

-We took a day trip to a nearby Science Museum. You can read about that *here*.
I couldn't wait to get Hanna's finished pottery pieces back. Here are the final pieces. I think they turned out great and can't wait to put them out and up around our home!
If you'd like to see the pieces before they were finished click

*here*.
Here is Hanna beside her cat mask (each student had a couple of pieces on display):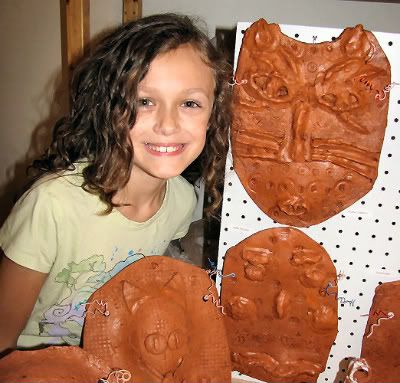 Angel Fish Plate:
Tea Pot and Drummer for dad:
Small Pots from Wheel (I have many of these:-), I use them for candles, salsa and dip bowls):
Square Plate (I am using this beside my stove as a trivet) and Mosaic: