We have had a wonderful first week home with Jesse. Honestly, we couldn't ask for more. He is healthy, eating well, sleeping well and such a sweet, happy baby. The kids all adore him, and have (almost) played well together all week. Of course, there have been squabbles that at times have tested Mom's patience:-), but all in all, I could not ask for more.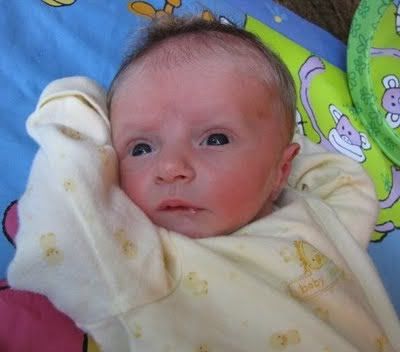 We haven't done any school this week in a formal way. The kids have had plenty of "life" school though, and have learned lots about newborns and the caring of them. Hanna and Joe have been hands-on in caring for Jesse alongside me. Jack literally runs to him when it is time for a feeding, to help and to sit by me off and on, watching Jesse and kissing him. It is so sweet to watch my kids already bonding with their new sibling. I am so blessed to have a large family, and this is something I do not want to take for granted. I have reminded myself of this during the "hairy" moments this week.

Here are some pictures from this week that are my favorites.


Hanna and Joe both enjoy holding him daily:


Jack loves wearing costumes, hats and all sorts of things. This week he enjoyed sporting a head scarf (I missed this photo-op) and goggles (among many other things):


He also enjoys his play mat. He likes looking in the mirror on it. Today he began noticing the toys hanging from it as well. He is starting to study his hands too. I love the way newborns hold their hands in front of their faces and just study them, moving them so slowly. Here he is on his playmat. All of the kids enjoy playing and sitting beside him on his mat. I managed to get a picture of Hanna with him like this.


Since we've all missed school this week, we are going to add a little bit in next week, even though I'd said we'd take a few weeks off:-). I just can't do it!! Hanna didn't do any school this week, she did lots of crafting though. Joe did a few file folder games I pulled out for him for phonics and math. He also had fun playing with his techno tools and pattern blocks. I have already planned our school for next week and can't wait to get started on it:-)!!


I am so thankful for such a great first week, and hope that our second week with Jesse will be just as happy and peaceful as our first one. This has made it so much easier on all of us and is truly a blessing.