Hanna, Joe and Jamie spent a good bit of time out in our backyard with their metal detectors Sunday afternoon. Hanna and Joe had fun outside with them today too--they were pretending to be paleontologists:-). They didn't find anything today, but while out with Jamie Sunday they found some pretty interesting things.

An old axe blade, railroad spikes, door hinge and nails. The kids love it when Jamie digs up these hidden treasures. They, and this includes Jamie, could stay out there all day with their metal detectors.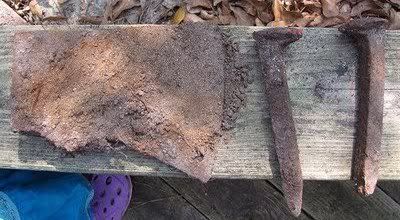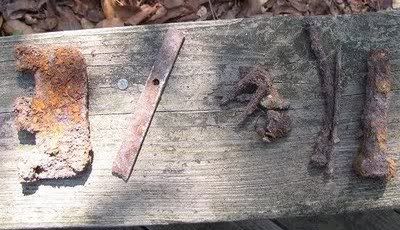 I got the sweetest pictures of Jack holding Jesse this morning. Jack is so sweet to him and really loves him. I am so surprised, but thankful to his reaction since Jesse has been home. I love seeing them together. It is going to be so fun watching them grow up and become buddies.

Today was such a good day. I hope for many more like today. We had a good day of "light" school, the kids played happily together and got to play outdoors some too. I felt such love for my children, and am so thankful for each of them. Today was a day when I couldn't even imagine Jesse being my last baby. Being a mom and watching my kids play, learn, grow and love one another is the most amazing, rewarding thing I do daily. And having such a wonderful husband to share life and our family with is more than I could ever ask for. I am so blessed!